Château de Villandry
Château de Villandry is a 16th century castle on the Loire (France) famous for its beautiful Renaissance gardens. These gardens were recreated by Joachim Carvallo, the great-grandfather of the current owner, and are based on old designs. Especially the decorative vegetable garden is very popular.
Thanks to the dedication and passion of the Carvallo family, we can still enjoy one of the most beautiful Renaissance gardens in Europe today.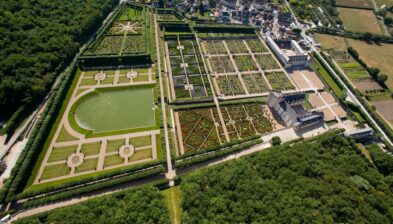 Paleistuin Het Loo
The gardens of Het Loo Palace were laid out in the 17th century as a baroque garden by order of King-Stadtholder William III and his wife Queen Mary II, the founders and first inhabitants of Het Loo Palace. This Dutch baroque garden, symmetrical with many parterres, impressive fountains and historical plants, was intended to give Willem and Mary status and prestige and was designed to impress visitors.
Herrenhäuser Gärten
The gardens of Herrenhausen (Herrenhäuser Gärten) in Hanover, Germany, originally consisted of four gardens of which the centrally located Große Garten is one of the most important baroque gardens in Europe. The origins of this garden start in 1638 when Duke Georg von Calenberg started the construction of this garden and accompanying buildings. His son continued the works and had a castle and accompanying pleasure garden built.